𝐅𝐢𝐧𝐝 𝐮𝐬 𝐚𝐭 𝐒𝐞𝐦𝐢𝐜𝐨𝐧 𝐒𝐨𝐮𝐭𝐡 𝐄𝐚𝐬𝐭 𝐀𝐬𝐢𝐚 𝟐𝟎𝟐𝟑 𝐨𝐧 𝟐𝟑𝐭𝐡-𝟐𝟓𝐭𝐡 𝐌𝐚𝐲 𝟐𝟎𝟐𝟑, 𝐒𝐞𝐭𝐢𝐚 𝐒𝐏𝐈𝐂𝐄 𝐂𝐨𝐧𝐯𝐞𝐧𝐭𝐢𝐨𝐧 𝐂𝐞𝐧𝐭𝐫𝐞 𝐏𝐞𝐧𝐚𝐧𝐠, 𝐌𝐚𝐥𝐚𝐲𝐬𝐢𝐚!
We are happy to announce that SMC Automation (Malaysia) Sdn Bhd will showcase the latest eco-friendly automation solutions at SEMICON Southeast Asia 2023. The products are designed to meet the needs of various industries, while reducing operational costs and increasing productivity.
Visitors can expect to gain insights and guidance from SMC team of experienced professionals on the latest automation trends and solutions.
Visit us @ Booth No. C1202, Convention Centre Hall. See you there!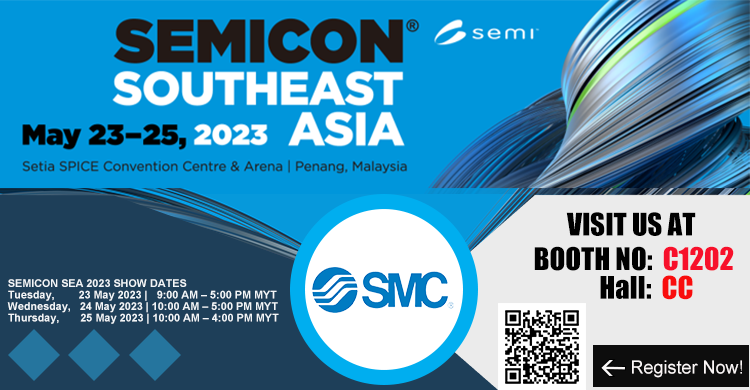 For details, please visit: https://www.semiconsea.org/ SEMI SEA